''Let's Knit in Kurzeme -2!''
From September 7th -11th (2017) in Liepāja, Latvia
we invite you to learn the traditional mitten knitting of the Kurzeme region
and explore Latvian culture, traditions and crafts.

General information
Organiser: National Costume Center, Senā klēts, www.senaklets.lv
Workshop languages: Latvian / English
Participation fee: 415 Euro + 21% VAT ('early bird price' for applications until July 1st)
Participation fee includes:
· Transportation from Rīga to Liepāja and back.
· Four nights in a hotel Porins (shared double room accommodation/ more information http://www.porins.lv//en/)*
· All meals, tea and coffee breaks.
· Museum visits and a tour around Liepaja and Kuldīga.
· All necessary yarns and one set of needles for the workshops (please bring your own ones if you would like to keep unfinished knitting work on the needles or you will be able to purchase extra sets).
*If you would like to stay in a double room for single use (limited availability) – the fee is 520 euro +21% VAT
Retreat itinerary:

Thursday, September 7th
10:00 Optional introductory meeting at Senā Klēts, Ratslaukums 1, Riga
Travel from Rīga to Liepāja departing from Senā Klēts at 11:00
Lunch in Saldus at true Latvian hostess Rasma Balode.
Kapeller house visit in Saldus. Meet jewelry master Dita Zagorska. Workshop: Knitting of traditional Saldus region mittens with master Zinta Vārpiņa.
Dinner

Friday, September 8th
A visit to the Liepāja Museum's Ethnographic (Traditional Craft) Exhibition
Workshop: "Variations of Mitten Cuffs" with masters Solvita Zarupska, Rita Pogoska
Lunch
A visit to National Costume Information Center and presentation of new book "Suiti patterned socks" by author Lia Mona Ģibiete.
Workshop: "Beaded Mittens" with master Astra Dzērve
Dinner

Saturday, September 9th
Trip to Rucava with Sandra Aigare and masters Aleksandra Maksakova, Rasma Kleina, Dace Liparte
A visit to ethnographic living history house ''Zvanītāji''
Workshop: "Colorwork (4 to 5 colors) Mittens"
Lunch
Workshop: "Traditional Rucava notched or picot cuff edges and Honeycomb Brioche mittens"
Tour of Liepaja

Dinner

Sunday, September 10th
A visit to Art and Craft Center ''Dārza iela" with masters Ilma Rubene, Aiva Dzērvīte, Velta Jeroņina, Sarmīte Ķībure.
An exhibition and lecture about Kurzeme mittens
Workshop: "Double-knitted Mittens"
Lunch
Workshop: "Knitted Gloves"
Dinner with the folk music group ''Atštaukas''
Monday, September 11th
Early morning departure from Liepāja.
Stop in medieval town Kuldīga, tentatively listed by Unesco World Heritage Centre.
Visit Kuldīga museum. Workshop with master Jolanta Mediņa.
Lunch and a walk through Kuldīga.
Arriving in Riga around 4pm.
Please fill the application form
( https://docs.google.com/forms/d/e/1FAIpQLScgUrByST_Z8Jy-NBoyhAwqc8zPqbFVKd_acVYslU_uiRHG0w/viewform?c=0&w=1 )
Application deadline: July 15th, 2017
We welcome everyone, including spouses! Recommended knowledge for participants at least on intermediate level and should be able to try out during workshops:

* stranded knitting
* knitting with fine DPNs (US needle size below "0")
Recommended books:
Lizbeth Upits. Latvian Mittens.
Maruta Grasmane. Mittens of Latvia. (Handschuhe aus Lettland / Latviske Vottar)
Mirdza Slava. Latviesu rakstainie cimdi.

Other useful links:
http://www.latvia.travel/en

Story of The National Costume Center SENĀ KLĒTS
For Latvians, the GRANARY has traditionally been the storehouse for supplies and the repository for valuables.
The National Costumes Centre "SENĀ KLĒTS" ("OLD GRANARY") is the storehouse for the magnificent and rich heritage of Latvian national costumes kept for future generations. Every item in SENĀ KLĒTS has been lovingly hand-made by outstanding Latvian craftsmen.
Latvia was founded nearly 100 years ago, but the history of the national costume is many centuries older. Archaeological findings and costumes restored from 1000-year-old fragments have allowed us to recreate the traditional costumes, which we see worn on festive occasions today.
We owe a particular debt of gratitude to the participants of our first National Song Festival in 1873 who, dressed in Latvian national costumes, reminded the Latvian nation of its traditional costumes and encouraged their wearing. It is the singers, who have ensured the survival of the national costume to the present day through the many wars and long years of oppression that have beset Latvia.
Since the restoration of Latvian independence in 1991, SENĀ KLĒTS has carried out scientific research and has invested much time and effort in promoting the production and appropriate wearing of Latvian national costumes.
In SENĀ KLĒTS you can discover the largest Latvian national costume exhibition in the world, a collection created under the guidance of ethnographer Maruta Grasmane. These costumes have travelled the world, capturing the interest of visitors to exhibitions in the U.S.A, Australia, many European countries, as well as Russia, Ukraine, Belarus, and Georgia
Please visit us and enjoy our national costumes. With each purchase you will help to continue long-standing Latvian traditions and skills, and maintain the beautiful diversity of the world in which we live.

Latvian National Costumes
People In Latvia wear national costumes during the Song and Dance Festivals that take place every four years in Riga. It is common to wear national costumes on Midsummer Night (23rd June), which is the most popular national holiday in Latvia. And of course - folklore groups, folk dancers and singers wear national costumes on stage. Costume shows not only ethnic features, but the social and marital status, age and wealth of the individual wearer, traditions.
Latvian national costumes are divided into archaeological and ethnographic costumes. Archaeological costumes date back to the 7th to 13th century, when the territory of Latvia was inhabited by Baltic tribes (Latgalians, Couronians, Semigallians, Selonians) and Finno-Ugric peoples – Livs. The ethnographic costumes originate from the 18th and 19th century. The data about these outfits have been collected in expeditions. There are hundreds of different national costumes in Latvia, every region has its own. The development of the national costumes reflects the history of the nation.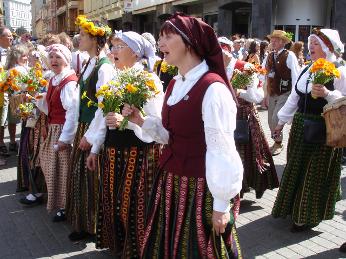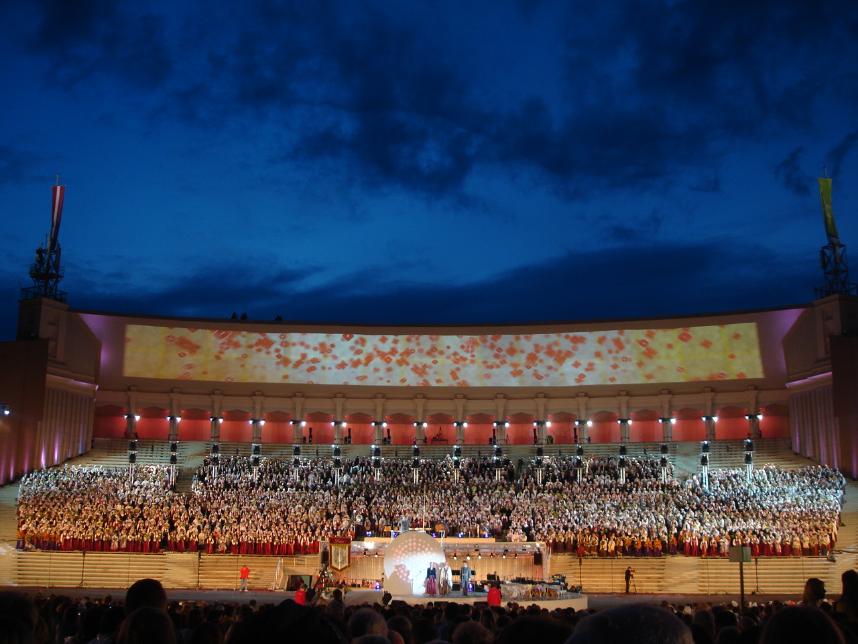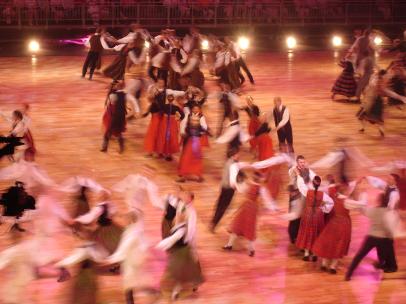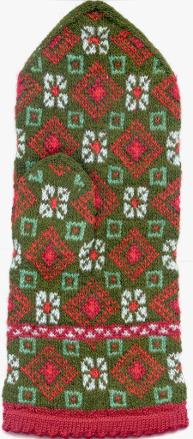 Latvian Mittens.
The tradition of knitting mittens stems from the cold weather of Northern Europe; although it is worth mentioning that centuries ago mittens played a decorative role as well. By fastening them behind the waistband, they were worn in summer as a bijouterie and adornment. For several centuries they were the main form of gift and endowed with magical significance. Latvia is famous for the fact that the oldest mittens have been found here by archaeologists. They are estimated to be approximately ten centuries old. These days Latvian mittens, so diverse in their colours and patterns are still an essential part of our winter clothing. Although there is always the possibility to wear synthetic gloves, the originality, tradition, warmth and sense of Latvia that is knitted into a mitten will be always worth a compliment.
Mittens are a very important part of several Latvian traditions. Probably the most popular role played by mittens was at wedding. Tradition says that before an unmarried girl entered into marriage she had to fill a hope chest. Mittens were an important part of the chest. The most lavish chests contained several hundred pairs of hand made mittens. They were given as gifts. Early tradition calls this giving process dedicating or devoting. The mittens were given to the mother-in-law, father-in-law, brother-in-law, and other people involved in organising the wedding. They were dedicated to cows, sheep, and horses and left in places where the newly-weds were going to live. The most exiting fact is that every mitten had to be knitted in a different design using different patterns; otherwise the maids were laughed at. This could not have been done if not for the rich and diverse Latvian ethnographic culture. To fit together like a hand and a glove – saying about good marriage.
Basic Symbols in Latvian Design.
Dievs - (God) is the supreme god. In ancient Latvian mythology, Dievs was not just the father of the Gods, he was the essence of them all. This symbol represents the sky, as a roof over the earth.
Māra - She is strongly associated with childbirth; children are said to enter the world "through the gates of Māra". She is the protector of women, especially mothers, and children. She is also the goddess of the hearth. Māra is also linked with death, and often takes the form of black animals such as ravens or black hens. She is also the goddess who was responsible for the land, the waters, and every living thing.
Laima - (Godness of Destiny) the name Laima derives from the word laime, which means "happiness" or "luck". Laima determines whether one's life will be short or long, fruitful or poverty-stricken, carefree or worrisome. She also determines the moment of a person's death. The sign is thought to bring luck.
Jumis - fertility and well-being are personified through Jumis He is associated with "double-plants," such as two corn stalks or trees which have grown together and share a trunk or stem. The basic symbol appears on wraps and jewellery from the Iron Age.
Ūsiņš - was the god of horses, bees and light. On Ūsiņš' Day, which falls in early May, the animals are let out to pasture for the first time. His sacrificial offering was a prize rooster. Ūsiņš is said to drive the chariot of the Sun across the sky with his two horses.
Zalktis (Serpent) - symbolized a deity which was significantly connected with general well-being, judging from the popularity of the symbol. This sign is very ancient, also dating from the Iron Age, and is seen often on the borders of shawls, on jewellery, and leatherwork.
Krusts, krusta krusts, Māras krusts – (Cross and Cross of Crosses) the oldest ornamentation in all cultures. It guards, blesses and brings happiness.
Ugunskrusts – (Sign of Fire or Thunder Cross) the sign of thunder, is one of the most ancient symbols in the world and has been used by all nations. The Latvian sign of thunder symbolizes light, fire, life, health and prosperity. No other nation has used the swastika so widely, nor developed so many variations of it as the Latvians.
Saule - (The Sun) was the goddess of fertility, patron goddess of the unlucky, including orphans. The design was originally a simple circle, which evolved over the years into many variations. Sun designs now usually consist of eight parts.
Mēness - (Moon) guards and helps warriors, protects orphans. The Moon Sign has been found on men's bracelets dating back to the Iron Age. Sword embellishments also boasted Moon Signs. Found on pendants and pins, orphans clothing.
Auseklis - (The Morning Star or Guardian Star) is the symbol of the morning star, the usher of the new day. Auseklis is thought to protect people from the forces of evil which roam at night. He is represented by the complex eight-sided star, which must be drawn in one continuous line without lifting your hand to receive the benefit of his blessings.
Jānis - (Summer Solstice Deity) was sometimes referred to as a son of God. His Midsummer's Night festival (which is called "Jāņi" and which takes place on the evening of June 23rd) is the most important festival of the year for Latvians. Once every year, Jānis at midsummer came to bring luck and fertility to the people of Latvia.

TAUTAS TĒRPU CENTRS SENĀ KLĒTS, Rātslaukums 1 (Rātes pasāžā, ieeja no Mazās Jaunielas), Rīga, LV-1050, Latvija,
Tālrunis: +371 67 242398, E-pasts: info@senaklets.lv